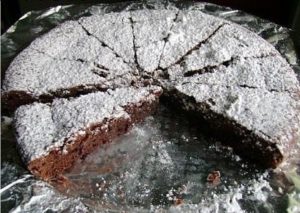 Last night I said to Klara and Henry that my sister was doing the Tenerina, which is a typical cake from Ferrara.
It's great, full of chocolate 🙂
And then we talked for a few minutes about Italian cooking and how much it's various.
In Italy we have a real culture of the kitchen, is part of us and of our country on a par with the rivers and the mountains, or the sea or with the monuments and historical artifacts.
[23:05:28] >-Shabar -> Enrico you should come in Emilia to eat well and hard 🙂
[23:07:16] >-Emmetili-> sure Luisa, it's a place good for to eat very well
[23:07:50] >=Duur-NL=> your culture had more with eating
[23:07:54] >=Duur-NL=> with food
[23:07:55] >-Shabar -> i can confirm 🙂
[23:08:07] >-Shabar -> yes Klara
[23:09:08] >=Duur-NL=> my feelings is that we dont have that much with food
[23:09:17] >-Shabar -> if you explore just a little Italian food you get lost
[23:09:45] >-Shabar -> every country, every city, every place has his own plate or recipe.
In Italy we have 20 Regions and each region has one or more cities larger or smaller.
In our north we have eg Piedmont, Lombardy, Veneto and Emilia Romagna that are very large and have different territories, from the sea to the plains to the mountain or lakes.
Each area has a lot of different foods at times, related to the type of crops or livestock in the area, or very different versions of the same food.
In addition, the North had a historical path completely different from the regions of Central or South Italy, foreign influences ranging from the French, the Germanic peoples, the Spanish, the Turks, the Arabs.
Everyone has brought something of their culture and what is more important and immediate of food?
as I wrote in room "every country, every city … every place has its own plate or recipe"
At the end there is'nt only one Italian Cuisine, there are thousands of recipes and even Italians can't know them all.
In addition there are also the distances between one place and another.
Just to give you an example Palermo is in Italy, in Sicily and is away from Milan about 1500 km to the south.
Milan -> Amsterdam are about 1100 km to the north.
I think you understand what I mean 🙂
I have to laugh when they say that Italian cuisine is just Pizza and Spaghetti.
Good appetite 🙂
(Visited 20 times, 1 visits today)